0
How-to : L2L IPsec VPN between Cisco ISR 2811 and DrayTek Vigor 2850n
Whole idea for that article came from real environment. At home I have DrayTek Vigor 2850n as my broadband router (and in fact it is really nice piece of equipment). Same time I'm using some Cisco equipment located in remote Lab for testing purposes. Remote Lab is connected to Intrenet and before to get access to devices and systems located there I was using EzVPN. However, as Lab has Cisco ISR as main router I thought, why not to establish L2L IPsec between my home network and remote Lab. Now, question how to do that. I have DrayTek on one end and Cisco ISR on the other. After few attempts, mis-configurations and troubleshooting it did work quite well in fact. So, here it is.
Here is what needs to be achieved:
Equipment available:
Cisco ISR 2811 – on the left side of the diagram – internal network 10.255.0.0/24
DrayTek Vigor 2850n – on the right side of the diagram – internal network 10.130.1.0/24
Goal:
Establish IPsec VPN Tunnel between Cisco and DrayTek to make communication available between 10.255.0.0/24 and 10.130.1.0/24.
Please note that public IP addresses are changed to XXX.XXX.XXX.XXX and YYY.YYY.YYY.YYY. THis is done for the purpose as I don't want to reveal my real public IP addresses.
Configuration on Draytek Vigor 2850n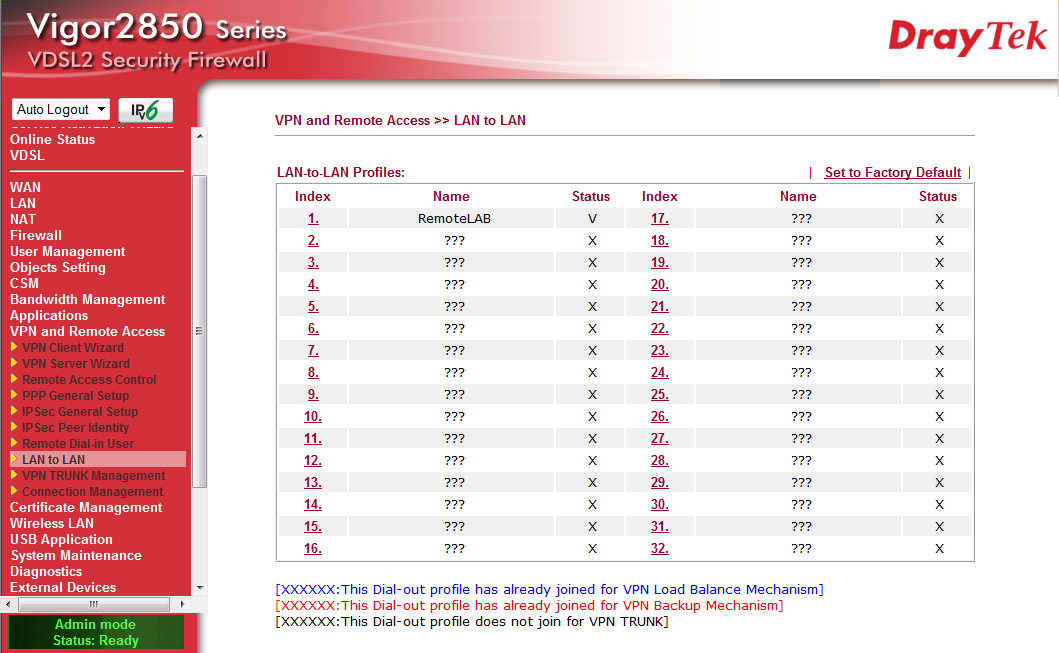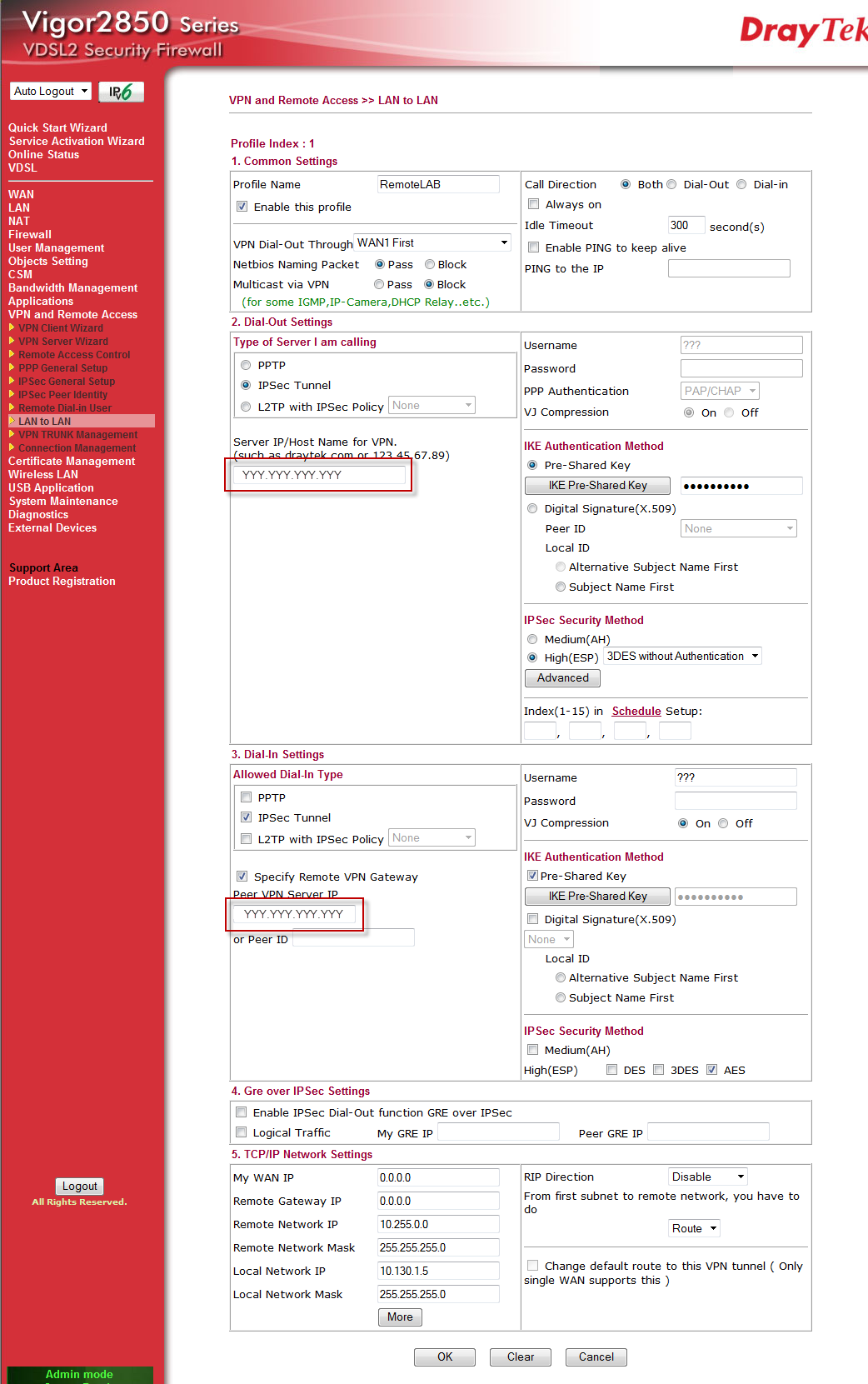 Configuration on lab-r01 – Cisco ISR 2811

service timestamps debug datetime msec
service timestamps log datetime msec
no service password-encryption
!
hostname lab-r01
!
logging buffered 51200 debugging
enable secret enable123
!
no aaa new-model
!
resource policy
!
ip cef
!
ip domain name domain.lab
!
voice-card 0
no dspfarm
!
username labadmin password abc123
!
crypto isakmp policy 10
 encr aes 256
 hash sha
 authentication pre-share
 group 2
crypto isakmp key abc123key address XXX.XXX.XXX.XXX no-xauth
!
crypto ipsec transform-set dtek-set esp-3des
crypto ipsec df-bit clear
!
crypto map LAB_TO_DTEK 20 ipsec-isakmp
 set peer XXX.XXX.XXX.XXX
 set transform-set dtek-set
 match address LabDT
!
interface FastEthernet0/0
 description ### Uplink to ISP ###
 ip address YYY.YYY.YYY.YYY 255.255.255.240
 ip nat outside
 ip virtual-reassembly
 duplex auto
 speed auto
 crypto map LAB_TO_DTEK
!
interface FastEthernet0/1
 description ### LabNET ###
 ip address 10.255.0.11 255.255.255.0
 ip nat inside
 ip virtual-reassembly
 duplex auto
 speed auto
!
ip route 0.0.0.0 0.0.0.0 ZZZ.ZZZ.ZZZ.ZZZ
!
no ip http server
no ip http secure-server
ip nat inside source route-map NoNat interface FastEthernet0/0 overload
!
ip access-list extended LabDT
 permit ip 10.255.0.0 0.0.0.255 10.130.1.0 0.0.0.255
ip access-list extended NoNat
 deny   ip 10.255.0.0 0.0.0.255 10.130.1.0 0.0.0.255
 permit ip 10.255.0.0 0.0.0.255 any
!
route-map NoNat permit 10
 match ip address NoNat
!
control-plane
!
line con 0
 login local
line aux 0
line vty 0 4
 login local
 transport input telnet
line vty 5 15
 login local
 transport input telnet
!
scheduler allocate 20000 1000
!
end
lab-r01#

Summary
Once configuration is done on both sides internal network can communicate without any problems 🙂